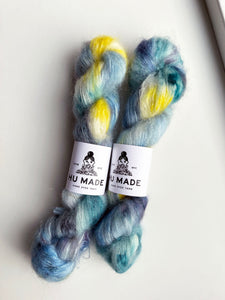 Hopper's Automat [EDWARD HOPPER] - Made Cloud - Ready to Ship
Regular price $30.00 Sale
Stock: 1 left
AUTOMAT is a multicolor tonal yarn with teal, black, grey, and pops of yellow. 
This color is inspired by Automat, painted by quintessential NYC artist Edward Hopper. A sense of thoughtful melancholy pervades the space, yet there's a sense of independence and satisfaction there as well. To me, Hopper is known for New York scenes painted in unexpected yet strangely comforting colors.
[This yarn is part of the Hu Made ART YARN series, which are inspired by art history and some of my personal favorite artists]
Base: Please see my Bases page for more info before ordering
Dyed to Order items typically ship within 2 weeks. 
 If you have any other questions please check out my FAQ section!