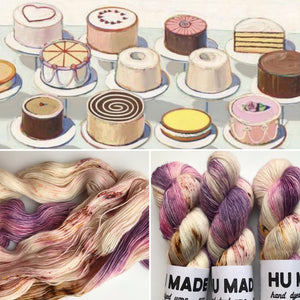 WAYNE'S CAKES [WAYNE THIEBAUD] -- Dyed to Order
Regular price $28.00 Sale
WAYNE'S CAKES is a multi color yarn with mauve, pink, and tan with unexpected peeps of yellow + multicolor speckles.
Inspiration for this color way comes from the painting Cakes, by artist Wayne Thiebaud-- whose whimsical dessert paintings are gentle, quirky, and lovable. 
[This yarn is part of the Hu Made ART YARN series, which are inspired by art history and some of my personal favorite artists]
Base: Please see my Bases page for more info before ordering
Dyed to Order items typically ship within 2 weeks. 
Image shown is Made Singles base.
If you have any other questions please check out my FAQ section!